Posted : 9 years, 10 months ago on 27 July 2008 11:54 (A review of
The Other Boleyn Girl (2008)
)
This was a good, complete movie. It had drama, and intrigue, and gorgeous sets and costumes, well acted and well directed. No it's not one of the 100 best films ever made, but it might make my top 10 for the year. We all know it's based on the historical dramatic book of the same name, and thereby know that it's not completely accurate. Most important of these inaccuracies is that Mary's son is not fathered by Henry. But the dramatic effect, especially for those who don't know that much about the King's mania for a male heir, is powerful and does illustrate Henry's fickleness. Kirstin Scott Thomas was especially great in her small but powerful role and the scene of the sisters at Anne's beheading really was riveting. Likable characters in sincere situations, excellent cinematography and good directing make this a movie I recommend.

0 comments,
Reply to this entry
Posted : 9 years, 11 months ago on 28 June 2008 11:27 (A review of
WALL·E
)
Pixar's new film about the only surviving trash compacting robot on earth is adorable. The scenes of Wall-E, going about his job and compacting trash in a world of nothing but trash even when there seems no point are touching, and his friendship with his pet cockroach is sweet. And the jokes and sight-gags all work splendidly, and keep you laughing throughout the entire movie. As there are practically no humans in the first half of the movie, there is practically no dialog, and yet they easily convey the story to you. Of course the visuals are excellent, it's Pixar. My only worry, is that it's so fast paced, that afterwards I don't have alot of memories of the film (or maybe that's from the allergy medicine), however for 103 minutes you are completely and utterly entertained!

0 comments,
Reply to this entry
Posted : 9 years, 11 months ago on 19 June 2008 07:41 (A review of
No Man's Land (2001)
)
The cover is a cute picture of two men in their undies waving white flags in opposite directions. This in no way gives the viewer a glimpse into harsh absurdities of war. What are the rules? And aren't any rules just pointless when you are trying to break the other side...through conquering, death, rape, expulsion, terror or any other degradation tactics that are required to win a war. This movie does a good job of giving a glimpse into a small set of people just trying to do their jobs. Whether it's the two principal characters from opposite sides of the conflict stuck in a trench between front lines, or the UN peacekeeper who realizes that by doing nothing a person is still taking sides, to the reporter who has trouble deciding what the truth of the story is, all are just people doing what people do. I think it's wrong to call this a black comedy, it does have a slight ironic feel to it all, but more than that it is bleak and very pessimistic. I think it is a great character study of multiple personalities, and it's portrayal of individuals as neither heroes nor demons is done superbly.

0 comments,
Reply to this entry
Posted : 9 years, 11 months ago on 14 June 2008 04:31 (A review of
Nobody Knows
)
The story starts out with a mother and son moving into a new apartment, and all seems normal. The mother is cute and funny, and the son is smart and helpful. But as the story unfolds, you learn that there are two younger children safely hiding in suitcases. And yet later, an older daughter waiting at the train station until after dark to sneak in. Not having read anything about this movie before, I loved the way things came to light slowly, naturally without it being served to us on a platter. And the movie has much more to give, and the watcher much more to learn. Later in the movie, however, things begin to drag. The movie does do an excellent job of creating a mood, and for those who have never been to Japan it does an excellent job of showing a real Japanese neighborhood. But prepared to have these things done slowly and without rhythm.

0 comments,
Reply to this entry
Posted : 9 years, 11 months ago on 14 June 2008 04:00 (A review of
The Last King of Scotland
)
I moved around a lot as a child, and something I learned along the way was to be wary of people who wanted to become friends quickly. Obviously the main character in this movie never learned that lesson, and quickly became trapped as confidant to a capricious despot. If someone likes you that quickly, they will probably hate you that quickly as well. Although the acting is great, and the locations are fascinating, I really never found the characters to be interesting and found myself watching the clock, never really wrapped up in the story. A good movie for the historical and cultural aspects, but missing something in the all-around.

0 comments,
Reply to this entry
Posted : 9 years, 11 months ago on 14 June 2008 12:44 (A review of
The Ruling Class
)
This black comedy needs to be seen in the right state of mind. And that state of mind is high. And you'll need more than one joint, it's a long movie. Unfortunately I wasn't on any mind altering drugs when I watched the movie (the box really should come with a warning). It was made in the early 70's, in that experimental phase, where pushing the boundaries was the most important thing. The plot, if there is one, is that the 13th Earl of something or other has died and the heir returns to the fold, from his 7 year vacation in the nuthouse. From there you will see an hour or so of very dry but absurd humor making fun of the English aristocratic way of life, with a few songs thrown in. Then it will take a turn for a half an hour in another direction, and then plummet you into a darkness not hinted at in the first half of the movie. It's probably hysterical when seen in the right mood, and maybe better even on repeated watchings in that state. What the movie does have going for it whether high or straight, is Peter O'Toole. He is mesmerizing, you just can't look away. And then there is the butler, who is funny in the usual funny way. He inherits enough money from the the Earl's death to leave this annoying family, but stays out of affection for the nutty heir, and because nobody else would come work for these jerks. So, he has the freedom to do and say what he wants, and helps make the movie bearable. Rent this movie at your own peril, you have been warned.

2 comments,
Reply to this entry
Posted : 9 years, 11 months ago on 14 June 2008 12:06 (A review of
Reign Over Me (2007)
)
The scene stealer of this film are the scenes themselves. The cinematography is so lovely, without hindering the movie in anyway. The actors aren't bad either. The story revolves around two college roommates who haven't seen each other in years and how they ended up where they are. One has everything, and one has had everything important taken from him. One of the films great attributes is how it takes you down a path where you think you know your going, but doesn't quite go there after all. It's pretty intricate in its emotional content, and is a thinking persons' movie. It frequently skips scenes other movies would have walked you through. If the scene didn't have interesting emotional content, it wasn't there. It doesn't always keep an even keel, but then neither does life. I felt a few characters were too shallow, and the mix of absurd and sad doesn't always mix well, but overall a nice melancholy movie.

0 comments,
Reply to this entry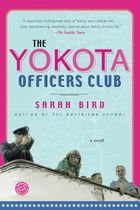 Posted : 9 years, 11 months ago on 4 June 2008 12:19 (A review of
The Yokota Officers Club: A Novel (Ballantine Reader's Circle)
)
The Yokota Officer's Club is a book about one family moving around the world with the USAF and how it affects them. The main character is the oldest daughter and the book starts with her flying from college to her families newest posting in Okinawa. But there seems to be one of those family secrets that no one ever talks about, that starts us going to flashbacks of a previous posting on mainland Japan and why the family never discusses the Japanese maid they had for those four years and was practically family. The overall structure of the book is pretty poor, with sidelines that are dead ends and segments that jump around. But the author does have a gift for creating interesting characters, most of which are complicated and well fleshed out. And the bond between the mother and oldest daughter is wonderful to read. The locations and the time periods are brought to life marvelously and truly gives the reader a look into something most people know nothing about. There is something here that reminds me of the best parts of "The Divine Secrets of the Ya-Ya Sisterhood". Despite it's many flaws I enjoyed reading this book and miss the characters now that it is over.

0 comments,
Reply to this entry
Posted : 9 years, 11 months ago on 1 June 2008 01:44 (A review of
Sex and the City (2008)
)
I've seen the odd episode here and there, but am in no way a fan. I'll watch it only if there is nothing else on. But I've seen enough to know who the major characters are. So when a friend asked me to go with her I said sure. I ended up liking the movie, if indeed it is a movie. Actually, the best thing about it was how un-movie-like it was. In a movie they spend some time on letting you get to know the characters, slow build up to some drama and then wrap it all up with a nice little ending. Well, these guys didn't really play by those rules. It was more like a mini-season of television (runs almost two and half hours). The ups and downs, and then some downs and some shoes and sex, and ups and and more shoes, all with New York as the background (most of the time). I don't quite get shoe-love, but I'm the only women in the world who doesn't (I own five pairs, and hate shopping for shoes), but even with some of those things that I don't relate to, overall I found the experience enjoyable. I wouldn't see it twice, but once was not a bad way to spend a muggy summer afternoon.

0 comments,
Reply to this entry
Posted : 10 years ago on 24 May 2008 12:42 (A review of
Clean (2004)
)
"Clean" is the story of a woman trying to get her life back after her husband-in-all-but-name dies of an overdose, and she serves time in a Canadian jail for possession. Nick Nolte plays her father-in-law, who is raising her son. I don't require the movies I watch to have the quickest of plots, and some meandering scenes can add flavor to a movie. But this movie was just a little too "arty" for me, and maybe a little too distant. I thought Maggie Cheung was mesmerizing, and if not for her I probably would have given up on the movie. Nick Nolte was okay, and and does a good job of looking haggard, but had such an odd cadence in his voice I found him irritating. I'm not sure what could have saved this movie (and I usually have some opinion), editing it down might leave out too much of the trials and tribulations of how hard it is to go clean - especially in the music industry. But in the end I just can't recommend this movie, too slow and too plodding.

0 comments,
Reply to this entry