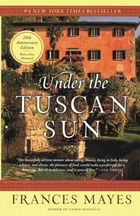 Posted : 10 years ago on 21 May 2008 11:56 (A review of
Under the Tuscan Sun: At Home in Italy
)
I have to be honest, that I'm so jealous of the woman my teeth are turning green. But besides that I found the book quite tedious. I knew going in that this was nothing like the movie. But that could only be a good thing, as the movie was trite and mediocre. In the book (and therefor real life) she buys the house with her boyfriend, and they only use it as a summer house. However, the book could have been a lot better. It felt more like a series of Martha Stuart magazine articles. Two chapters are completely devoted to recipes for meals she's learned to cook using Italian ingredients. And the rest is mainly about how they renovated the house, and what curtains they put where. There are a few cute anecdotes about the people and nearby places, and those I enjoyed tremendously. But generally it was pretty annoying and a very over-rated book.

0 comments,
Reply to this entry
Posted : 10 years, 1 month ago on 24 April 2008 08:36 (A review of
I Never Promised You a Rose Garden (Signet)
)
It is the story of a young woman and her time in a mental institution in the early 60's. The writing is pretty simplistic, and although this has become a young adult book, the author's style is very old fashioned and unlikely to keep a young adults attention. Then, there are the scenes in which Deborah retreats into her fantasy world which reads like a bad science fiction novel, with unexplained names and words that has the reader skipping over them, not because it's too complicated, but just uninteresting. It might have been interesting and somewhat informative in it's day, but in this day and age most 12 years olds can discuss the difference between schizophrenia and multiple personality disorder (and probably tell you what meds they are personally on for their own problems). There are much better books out there since this was written on mental illnesses, so I'd recommend skipping this one.

0 comments,
Reply to this entry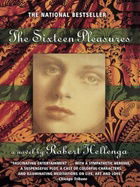 Posted : 10 years, 1 month ago on 11 April 2008 02:51 (A review of
The Sixteen Pleasures: A Novel
)
Sixteen Pleasures is the story of one American woman, who like many others across the world, picked up and went to Florence after the devastating flood of 1966 to help save the masterpieces in so many of the museums and churches there. Our heroine is a book restorer, who will probably lose her job at home for going on this adventure, but decides that is all she has to lose. The title of the book comes from an erotic manuscript banned by a long ago pope that the nuns find amongst their library. But although she becomes obsessed with saving this book, and therefor the nunnery, the story is more about her love affair with a married Italian man, with long descriptive pieces about how she painstakingly rebinds the book. I found myself skipping the parts about her work even though I thought I would enjoy learning about it. The book went by quickly, but something was missing, and the plot was overly predictable and the foreshadowing outright blatant. I admit that I rarely think men write well from a woman's perspective, but the first half of the book rang true. However, when she gets more confident, that voice loses itself, and the author even goes back and forth from first person to omniscient narrator. Such an interesting topic, so sadly executed.

0 comments,
Reply to this entry
Posted : 10 years, 1 month ago on 6 April 2008 04:22 (A review of
Shall We Dance?
)
The story of a Japanese business man who on the spur of the moment finds himself taking ballroom dance lessons, and how he keeps it a secret might seem a little preposterous but it really works. The plot sounds silly, but the movie takes the time to show you how he gets to this place where he has this little secret that grows all out of proportion. The film is just brilliantly written and acted. The pace is slow, without being boring, but more meditative, and showing the little things. The side characters are a little predictable but not over-done, so they tend to be likable rather than annoying. But I think what makes the film so good is the mood that is created - a little melancholy and yet a little hopeful, showing peoples joy in the little things. And the movie has stayed just as enjoyable upon repeated watchings.

0 comments,
Reply to this entry
Posted : 10 years, 1 month ago on 29 March 2008 03:03 (A review of
After the Sunset
)
The people are gorgeous, the scenery is gorgeous, the diamond is gorgeous but that's just not enough. The characters are all weak and so is the plot. Brosnan can't keep himself from stealing, Hayak can't leave Brosnan even though he's commitment phobic, and Haralson plays someone who can only react to unlucky situations. It's a generic heist plot, nothing new. In the end you don't really care what happens to the characters and are just glad the movie is over so you can go do dishes or something else meaningful.

0 comments,
Reply to this entry
Posted : 10 years, 2 months ago on 16 March 2008 02:45 (A review of
Keeping the Faith
)
Wow, this just didn't work. And I can't pinpoint the real problems. It's a fabulous cast, but there was never any chemistry between them. It also had trouble finding it's tone. One minute it seems dark, and then it's silly. There were some good moments, but not enough strung together to make the movie work. What a waste.

0 comments,
Reply to this entry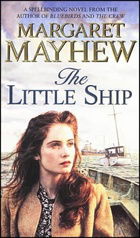 Posted : 10 years, 2 months ago on 11 March 2008 02:04 (A review of
The Little Ship
)
The book is the fictional account of 5 young people and their leadup to WWII and the evacuation of Dunkirk. The characters are 2 English brothers, their younger female cousin, a Jewish teenage girl sent away from Austria at the beginning of the trouble that lives with the cousin, and a young german boy that attends school with the boys. And their fishing boat they use every summer. The story of the youngsters over the years before the war is pretty average, and at times tedious. The best bit is the last couple of chapters that describe the actual call-up of all sea-worthy ships by the British for some unknown reason. The reason being that the Germans have captured most of France in a week, and stranded the English and French soldiers at Dunkirk. And how those civilian ships end up picking up nearly 300,000 officers and returning them to England. Their is just too much coincidence in the book, even if one or two are realistic. Even for light reading, the book isn't quite worth it, as the middle part just drags. Too bad, as I think the idea was good.

0 comments,
Reply to this entry
Posted : 10 years, 2 months ago on 11 March 2008 12:35 (A review of
The Thomas Crown Affair
)
When this movie came out and I saw the previews, I quickly decided this wasn't my type of movie. I think that goes to show you how bad a job they can do promoting it. I am completely the target audience. This is your average heist movie, with an interesting romance thrown in. Brosnan plays a very rich business man whom Russo believes has just stolen a Monet from the museum under everyone's nose. And the romantic relationship that ensues from their meeting. Because Brosnan's character is much more of a mystery, he's not really an equal player in the movie. Oh, he's pretty. But what makes the movie is Rene Russo. Her character is sleek, smart and ballsy and ends up being really likable. You get invested in what happens to her. Although the twists and turns aren't completely original (it is a remake after all), it was a fun movie and I was surprised how much I enjoyed it.

0 comments,
Reply to this entry
Posted : 10 years, 2 months ago on 9 March 2008 02:54 (A review of
Mrs. Palfrey at the Claremont
)
You know from the first 3 minutes this is going to be a slow paced movie. It's the sweet story or an older lady who's moved to London to not be a bother to her daughter, and the friendship she strikes up with a good looking, commitment-phobic, jobless writer. Joan Plowright hit just the right note for this older woman. She could have easily been to harsh, or too sweet. But instead she's more complicated, and even a bit unreadable. The other characters who live at the Claremont or a bit stereotypical, but enjoyable. This movie is totally unoriginal, but I found the people pleasant to get to know for a few hours.

0 comments,
Reply to this entry
Posted : 10 years, 2 months ago on 7 March 2008 12:42 (A review of
Definitely, Maybe (2008)
)
Who knew that Ryan Reynolds could go from "2 Guys, A Girl & A Pizza Place" and Van Wilder (and wasn't there a Blade movie, too) into a romantic lead. I liked the format of telling the story to his child with the names changed to make it a mystery to her. I liked that all the characters were likable, and yet flawed. And the way they came together and fell apart was pretty realistic. It did all those things a Romantic Comedy should do; there was romance, there was partings and there was humor. And best of all the humor was not pratfall humor - no falling down, no pies in faces, but smart humor. The movie was nothing extraordinary, but a good solid, likable film.

0 comments,
Reply to this entry